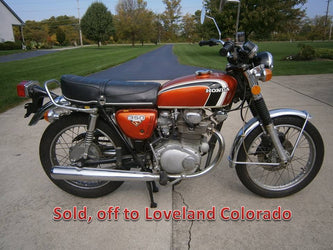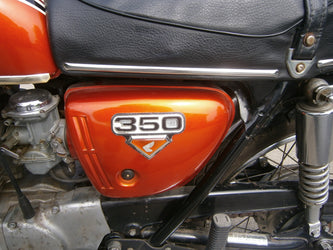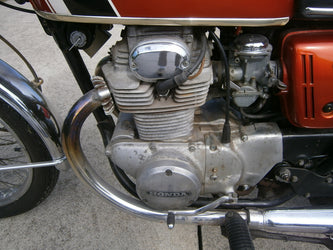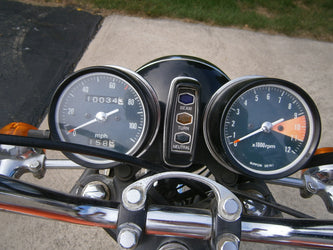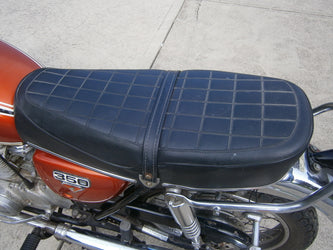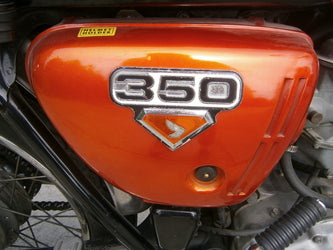 Sold Honda CB360G
Regular price
Sale price
$5,104.00
Unit price
per
Sale
Currently Out of Stock
With the exception of the small 50cc step through, The Honda CB350 was the best selling Honda of all time, and for good reason, it was a wonderful balance of size, handling, and engine performance that made it a groundbreaking model hit.

 What we have here is not just a mere CB350, but a 1973 CB350 "G" model.  This was the last year model before the introduction of the short lived CB360.  The G model had two new colors never seen before:  orange and purple.  It had a different front fork with rubber protectors, a chrome rear grab rail, and the piece d resistance, a front disc brake.

 This bike is absolutely gorgeous it would have to be a least an 8.9 on a 10 scale.  The paint is bright and un-faded. Chrome is bright throughout.  The gauges are clear and not faded. The striping is excellent, the seat is like new.  The exhaust pipes are excellent without rust through on the bottom like most old bikes.  Sidecovers are excellent, and you will notice that their badges are different from previous models.  There is a shallow dent on the very front of the left side of the gas tank, but the paint is not broken.

The bike performs excellently.  It starts easily on either the kick or electric starter.  It runs through all the gears to redline.  Clutch and brake action is as expected.  All electrics work including gauge lights.

 If you want a premium classic  bike.  This Honda CB350 that is as close to original both in condition and performance, you need to take a look at this bike.