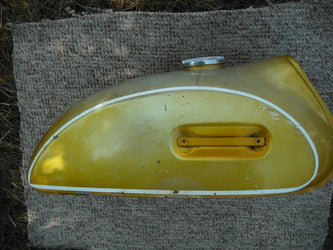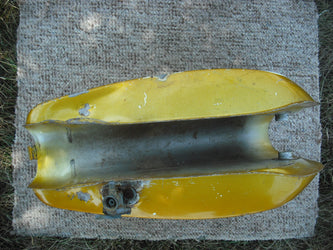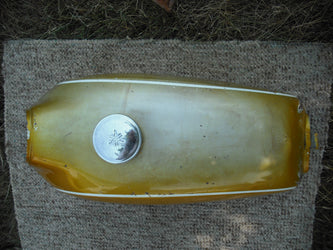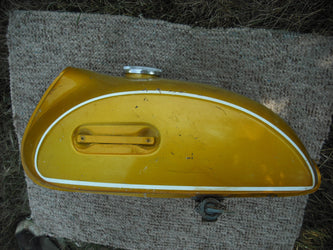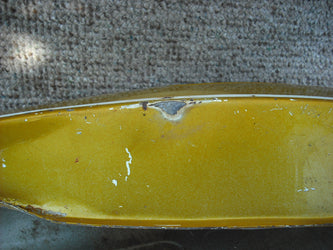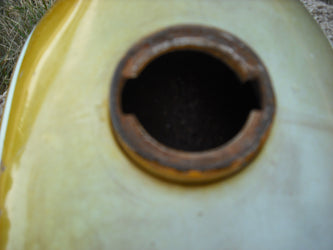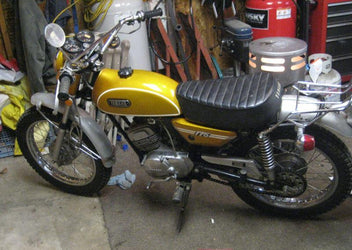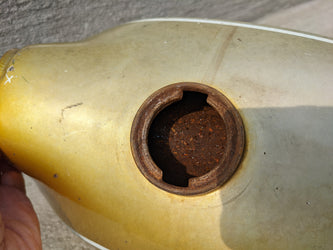 Sold Ebay Yamaha CT3 175 Gas Tank Fuel Tank sku 3229
Regular price
Sale price
$178.00
Unit price
per
Sale
Currently Out of Stock
It is really hard to find a used tank that doesn't have some big ugly dent somewhere on iti.
Not this one.  It is a very nice looking original early 1970's Yamaha 175 Enduro Gas Tank.  Will probably fit up until about 1976 models also.  Comes with the beautifully engraved Yamaha Gas cap which I have seen sell for over $50 on ebay.  It also includes the original petcock which is missing the bottom sediment bowl..
No noticeable dents, one slight depression about 1/3 way back on left, another slight depression in the area where it meets the seat.  In neither case has the paint been broken.  It just shows a minimum of scratches.  Paint has faded unevenly.  It does have one area that looks like it might have been a pinhole rust through.  It looks to be has been repaired with solder.  Inside of the tank will need a good cleaning. 
I have included an internet picture of a CT175 Yamaha model .  The motorcycle is not included.