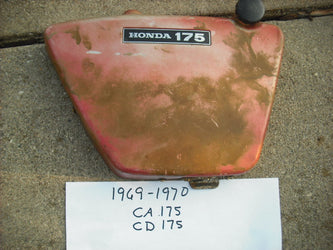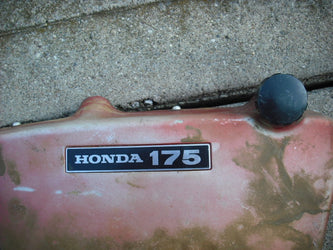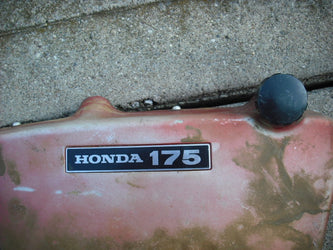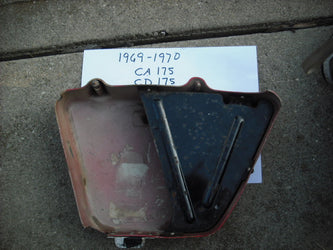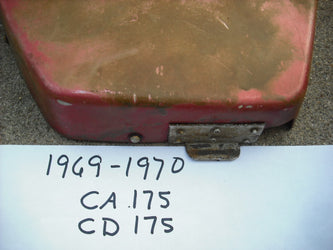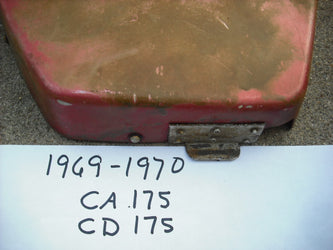 Honda CA175 CD175 Sidecover Red Right sku 3171
Regular price
Sale price
$79.00
Unit price
per
Sale
Currently Out of Stock
Wow, this model was made for only half of two production model years. This model had what was called the "Sloper" motor. Very good original condition original paint.  This is a very rare model made in late 1968 and early part 1969.  It was termed both CA175 and CD175. This is for the early "sloper" model.  Extremely Rare.  This model has the metal compartment for the tool kit in the back.  Very neat set up. right sidecover.  The 1969-1970 CA CD175 is quite a bit different including different sidecovers. Make certain this is the model sidecover you are looking for 
Faded, needs paint, but is in good physical condition, study heavier duty plastic than most sidecovers.  Original knob , excellent bright decal It came with a  metal clip on the bottom  no cracks.
I have the matching right red sidecover under sku 3783
I used to have one so I am including a picture of the bike it fits.  The bike is sold years ago, is not available, and does not come with the sale of the sidecover.