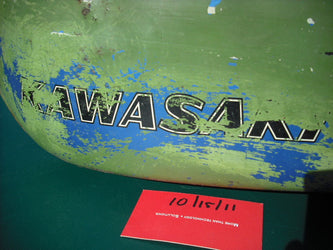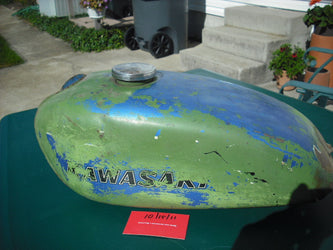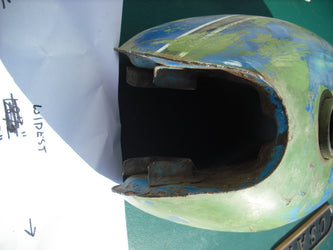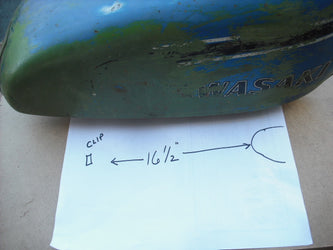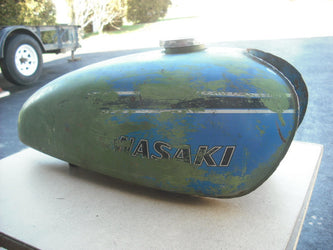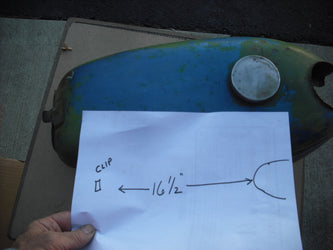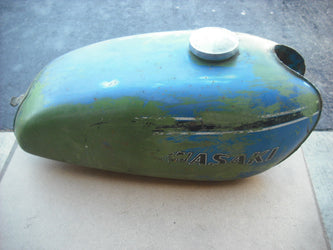 Kawasaki Gas Tank G4 ??
Regular price
Sale price
$69.00
Unit price
per
Sale
Currently Out of Stock
Sold via invoice 3/19/14
george dimopoulos
41 Chopin crt Nerang
Gold coast, Queensland 4211
Australia
I cannot tell for certain what this tank is off of. I think it is a 1970's 100 G4, but I cannot be certain. I have included lots of measurement.
At first glance this tank looks  ugly because of the green paint.  However on second look it is in remarkably good condition.  It is hard to find a used tank without some huge dent somewhere, however it is in really nice shape, with no dents and only one spot with a slight depression on the left middle front. This would be an easy repaint, or tank for your custom application. Includes gas cap.
It is 16 1/2 inches from its rear mounting clip to the center of the "U" that fits around the front steering stem.  It is 8" in the middle, and it tapers to 6 5/8" in the reara.